Altar & Rosary Society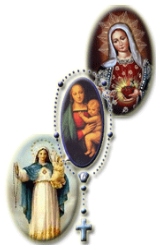 The parish Altar Rosary Society is a great group of active women in our Parish, praying, working & sharing with members of our parish as well as our community. The Altar Rosary Society supports many activities and charitable functions in our parish.
The Altar Rosary Society provides many functions in our parish, here is a list of a few things our society does:
Promote devotion of the Rosary
Have a Rosary Rally every year
Recite the Rosary at wakes upon request
Send out Mass cards, get-well and sympathy cards
Purchase First Communion gifts (Rosary Beads and Scapular)
Hold a May Crowning followed by a covered dish dinner
Assist with Coffee Hour after the 8:30 Mass for all parishioners
Support at Harvest Dinner for the Parish each year
Donate money to the food pantry, Urban Mission, Catholic Charities LifeRight, etc.
Please Join Us

All of these deeds have been accomplished due to the cooperation and willing hands of our members and parish families.

We look forward to having new members join us. There is a yearly membership fee of $3.00.

If you would like to join us, please download the Membership Information Form, complete and return it as per instructions on the form. If you have questions, please call the Parish Office at (315)782-1143.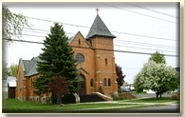 ---
Roman Catholic Community of Brownville & Dexter
119 W. Main Street
PO Box 99
Brownville NY 13615
Phone: (315)782-1143
Fax: (315)782-0231
Email: icses@twcny.rr.com
---
Secretary
Tina Froedtert
---
Saturday Masses
4:00 PM - SA, Sackets Harbor
5:30 PM - IC, Brownville

---
Sunday Masses
8:30 AM & 10:00 AM
IC - Brownville
-
11:30 AM - SA, Sackets Harbor

---
Daily Masses
9:00 AM on M, W and F
IC - Brownville
-
9:00 AM on T and Th
SA - Sackets Harbor
---
Reconciliation
Saturdays at 3:30 - 4:00 PM
SA - Sackets Harbor
-
Saturdays at 5:00 - 5:30 PM
IC - Brownville