Parish Bulletin Archive
This is an archive of our weekly bulletins ... simply click on the date to download a copy of the bulletin for any given weekend. Please note that the date listed is a Sunday. We will leave the bulletins linked for the current month as well as the previous two months.

Immaculate Conception Church and St. Andrew's Church have a common bulletin. If you arrived at this page by the link in the SA website, please note that you are now on the IC website.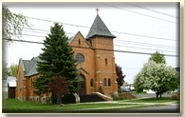 ---
Roman Catholic Community of Brownville & Dexter
119 W. Main Street
PO Box 99
Brownville NY 13615
Phone: (315)782-1143
Fax: (315)782-0231
Email: icses@twcny.rr.com
---
Secretary
Tina Froedtert
---
Saturday Masses
4:00 PM - SA, Sackets Harbor
5:30 PM - IC, Brownville

---
Sunday Masses
8:30 AM & 10:00 AM
IC - Brownville
-
11:30 AM - SA, Sackets Harbor

---
Daily Masses
9:00 AM on M, W and F
IC - Brownville
-
9:00 AM on T and Th
SA - Sackets Harbor
---
Reconciliation
Saturdays at 3:30 - 4:00 PM
SA - Sackets Harbor
-
Saturdays at 5:00 - 5:30 PM
IC - Brownville